On November 11, 2017, in Geneva, Switzerland, Phillips auction house will offer for sale 42 vintage Heuer chronographs, assembled as "The Crosthwaite & Gavin Collection".  Almost all these watches span the period from the early 1960s through the mid 1970s, the period when Jack Heuer was at the helm, as the fourth generation leader of the Heuer brand.  A 43rd watch will be included in the sale, Serial Number 1 of a limited edition TAG Heuer being offered on the occasion of Jack Heuer's 85th birthday, in November 2017.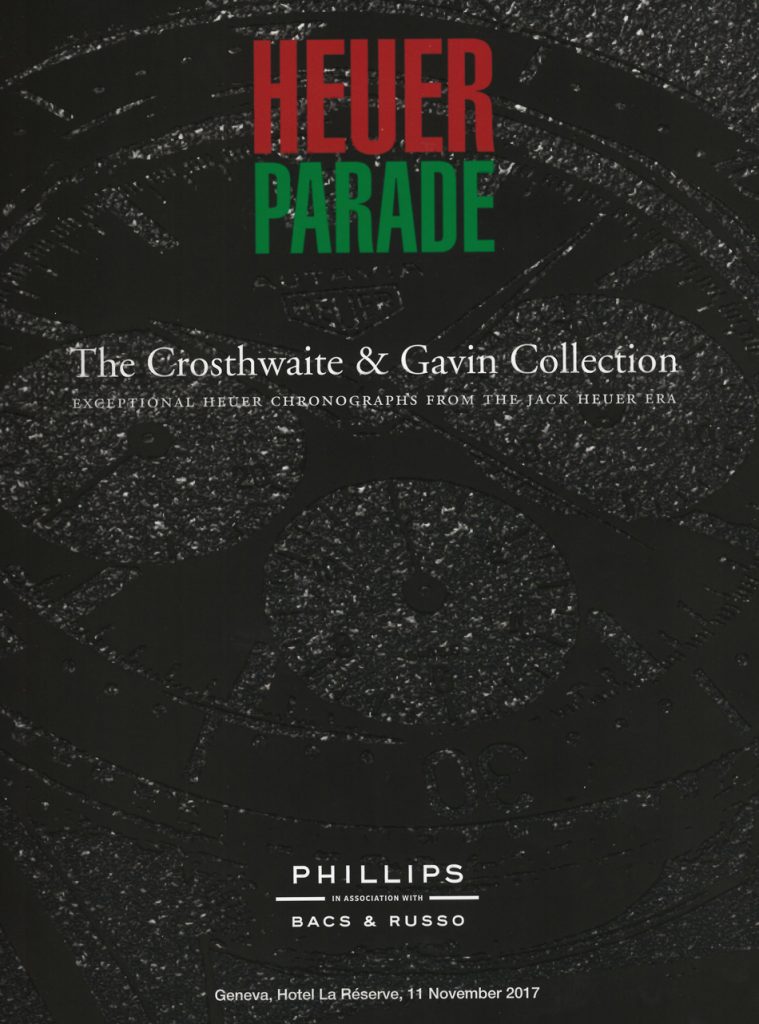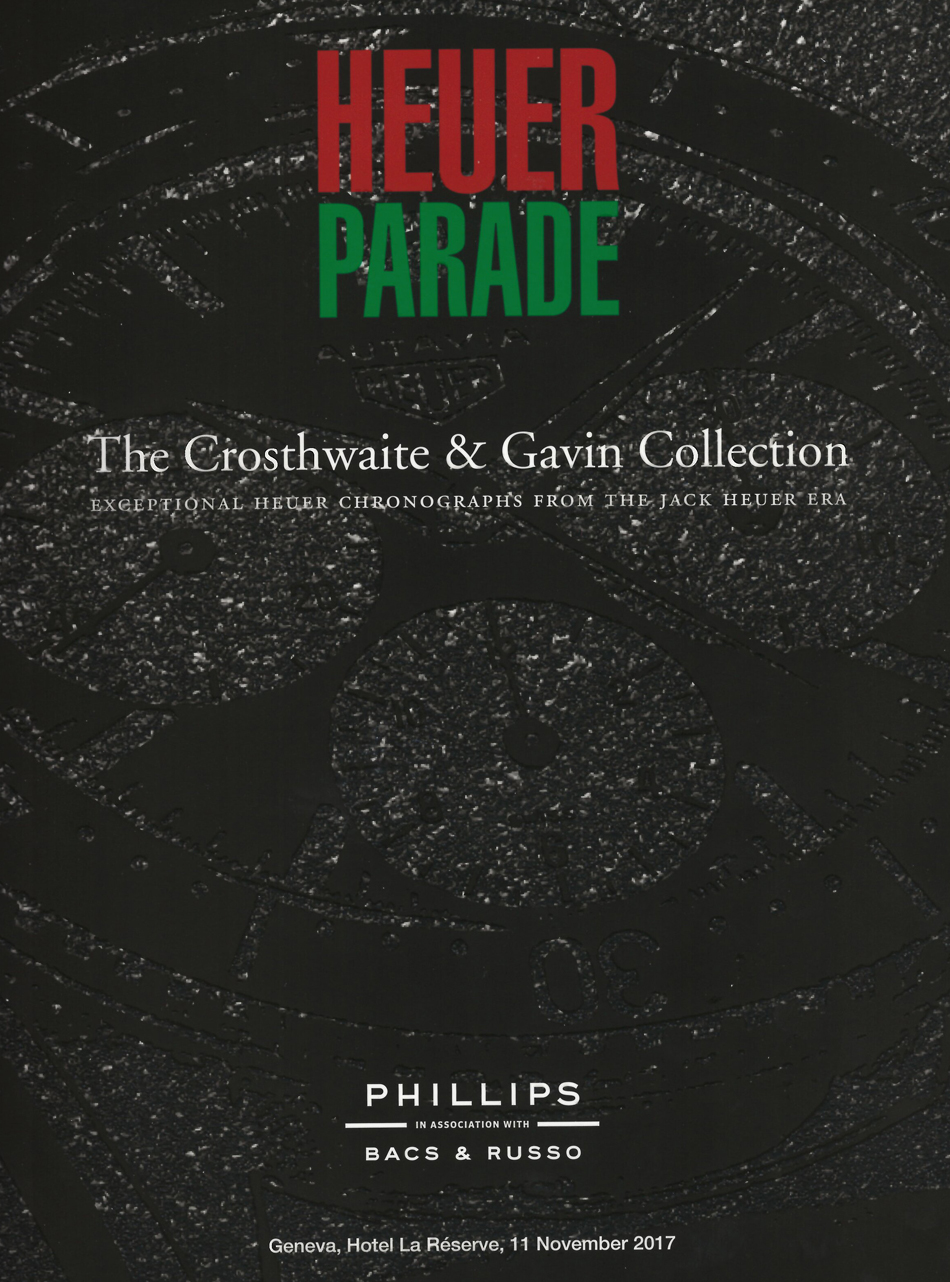 Phillips is presenting this auction as the "Heuer Parade", and has produced a magnificent printed catalog with full details and photographs of the watches.  This printed catalog is presented in seven chapters, each of which presents a different aspect of Heuer's history (for example, motor sports, race timing and military-issued watches).
The following is an overview of the 43 watches included in the "Heuer Parade".  Click on any of the thumbnails for a high resolution photograph of the watch.
Chapter One: First in Line, First in Time —

some of the "first" designs that made Heuer's reputation

Description / Case Serial Number
Estimate (USD)
Estimate (euro)
Lot 1
Carrera "Eggshell White" (Ref 2447S) / 54043
$8,000 / 12,000
E7,300 to 10,900
Lot 2
Carrera Abercrombie & Fitch Chronomatic / 147856
15,000 to 25,000
13,600 to 22,700
Lot 3
Autavia "Big Sub" (Ref 2446) / 49506
80,000 to 120,000
72,700 to 109,100
Lot 4
Carrera "Big Eyes" (Ref 2447 SN) / 103134
12,000 to 18,000
10,900 to 16,400
Lot 5
Autavia "Big Sub" (Ref 3646) / 48886
50,000 to 80,000
45,500 to 72,700
Lot 6
Monaco "Dark Lord" (Ref 740303N) / 255614
35,000 to 50,000
31,800 to 45,500
 
Chapter Two:  Born to Race —

Heuer's ties to the golden period of racing

 Description  (and Case Serial Number)
Estimate (USD)
Estimate (euro)
Lot 7
Autavia "Siffert Colors" (Ref 73463) / 215988
$5,000 to 7,000
E4,500 to 6,400
Lot 8
Carrera "2nd Execution" (Ref 2447 SNT) / 103087
12,000 to 18,000
10,900 to 16,400
Lot 9
Carrera (Ref 2447 NST) / 102656
12,000 to 18,000
10,900 to 16,400
Lot 10
Autavia "Siffert Flat V" (Ref 1163T) / 142509
20,000 to 30,000
18,200 to 27,300
Lot 11
Carrera 45 Dato "Indianapolis Motor Speedway" / 127204
20,000 to 30,000
18,200 to 27,300
Lot 12
Carrera Ref 1153 S / 147304
4,000 to 6,000
3,600 to 5,500
Lot 13
Carrera Decimal Minutes, 1st Execution (Ref 2447 D) / 62647
8,000 to 12,000
7,300 to 10,900
Lot 14
Autavia "Exotic" (Ref 1563T) / 270948
15,000 to 25,000
13,006 to 22,700
Lot 15
Carrera 18 Karat Gold (Ref 1158S) / 240983
10,000 to 15,000
9,100 to 13,600
Chapter Three: Skimming Over the Waves —

Chronographs for the ocean, yachting and diving

 Description (and Case Serial Number)
Estimate (USD)
Estimate (euro)
Lot 16
Carrera "Yachting" (Ref 2447) / x3287
12,000 to 18,000
10,900 to 16,400
Lot 17
Abercrombie & Fitch Seafarer Ref 2446C (Compressor Case) / 111148
10,000 to 15,000
9,100 to 13,600
Lot 18
Abercrombie & Fitch Seafarer Ref 2446 (Screw Back Case) / 52907
25,000 to 35,000
22,700 to 31,800
Lot 19
Mareographe Ref 2446 CSF (Compressor Case) / 324073
12,000 to 18,000
10,900 to 16,400
Lot 20
Mareographe Ref 2447 /78880
12,000 to 18,000
10,900 to 16,400
Lot 21
Autavia Diver 100 (Ref 11063P) / 395906
6,000 to 8,000
5,500 to 7,300
Chapter Four: Serving the Nation — Military Watches —

chronographs supplied to military forces

Description  (and Case Serial Number)
Estimate (USD)
Estimate (euro)
Lot 22
Carrera "Angolan FAPLA" (Ref 110.573B) / 327506
$4,000 to 6,000
E3,600 to 5,500
Lot 23
Carrera "LuM-FAe Belgian" (Ref 7753) / 107913
12,000 to 18,000
10,900 to 16,400
Lot 24
Carrera 45 Dato "Jordanian" (Ref 3147N) / 127771
8,000 to 12,000
7,300 to 10,900
Chapter Five: Ready for Take-Off —

chronographs for pilots and travelers

 Description (and Case Serial Number)
Estimate (USD)
Estimate (euro)
Lot 25
Autavia GMT (Ref 2446C GMT) / 195643
8,000 to 12,000
7,300 to 10,900
Lot 26
Carrera 12 Dato (Ref 2547 NS) / 100883
8,000 to 12,000
7,300 to 10,900
Lot 27
Autavia Ref 1163 GMT, 2nd Execution / 243554
15,000 to 25,000
13,600 to 22,700
Lot 28
Autavia GMT "1st Execution" (Ref 2446 Screw Back Case) / 100012
50,000 to 80,000
45,500 to 72,700
Lot 29
 Carrera 45 Dato (Ref 3147 N, 1st Execution) / 94830
8,000 to 12,000
7,300 to 10,900
Lot 30
Autavia GMT (Ref 741.603 GMT) / 297974
12,000 to 18,000
10,900 to 16,400
Lot 31
 Autavia Ref 1163 GMT, 1st Execution / 205440
10,000 to 15,000
9,100 to 13,600
Chapter Six: Keeping the Pace — 

"Tool watches", rugged chronographs built for special purposes

 Description (and Case Serial Number)
Estimate (USD)
Estimate (euro)
Lot 32
Autavia "Arabic Orange" (Ref 73663) / 201638
5,000 to 7,000
4,500 to 6,400
Lot 33
Autavia "Siffert Flat A" (4th Execution Dial) / 242168
10,000 to 15,000
9,100 to 13,600
Lot 34
Autavia "All Lume" Dial (Ref 2446 H) / 95502
35,000 to 50,000
31,800 to 45,500
Lot 35
Carrera "2nd Execution" (Ref 7753 SN) / 105378
8,000 to 12,000
7,300 to 10,900
Lot 36
 Autavia "2nd Execution Dial" (Ref 2446 M) / 52882
30,000 to 45,000
27,300 to 40,900
Lot 37
Autavia "Orange Boy" (Ref 1163 MH) / 242748
15,000 to 25,000
13,600 to 22,700
Lot 38
 Autavia "Third Execution Transitional" / 82999
20,000 to 30,000
18,200 to 27,300
Chapter Seven: Seeing the Chequered Flag —

chronographs for the racing legends

 Description (and Case Serial Number)
Estimate (USD)
Estimate (euro)
Lot 39
Carrera 18 Karat Gold "Ferrari" (Ref 1158 CHN) / 249397
15,000 to 25,000
13,600 to 22,700
Lot 40
Monaco "McQueen" (Ref 1133 B) / 164122
12,000 to 18,000
10,900 to 16,400
Lot 41
Autavia "Rindt" (Ref 2446) / 95807
12,000 to 18,000
10,900 to 16,400
Lot 42
Autavia "Siffert Chronomatic" (Ref 1163T) / 141374
50,000 to 80,000
45,500 to 72,700
Lot 43
Autavia "Jack Heuer" Limited Edition / 1 of 1932
proceeds to charity
proceeds to charity
Jeff Stein
October 9, 2017